Todd E Jones
Follow
So, a little over a week ago we had an apocalypse. Well, sort of an apocalypse. Facebook went down and took WhatsApp and Instagram with it.
I'm not sure how many small businesses panicked, but it allowed for some of us the opportunity to remind small businesses they need a website and an email list.
I wrote about this previously. 
The first thing you should remember is that your home on the internet is your website and your email list. Your website is your hub.
You need to have both pieces of property.
The next thing to think about is how in the world do you get people to your website.
Often I will see blog posts (or articles) that say something like "101 ways to drive traffic to your website."
Wow, 101 ways!
That's amazing!
Let me tell you my friend, each of those ways can be tossed into one of three buckets.
Today, I'm going to talk about those three buckets that contain the ways to send traffic to your website (your hub, your home).
Now, to be sure, social media can help with that, but it's your website you need to cultivate like a business garden.
Ready to get started? Let's dive in.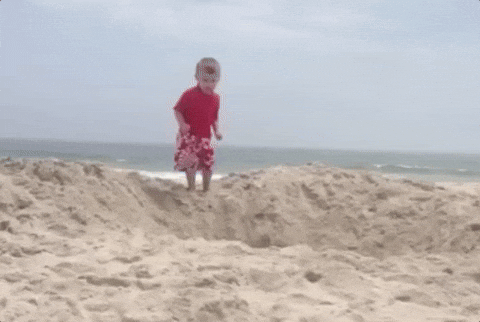 Getting traffic to your website:
Organic
Paid
Email
1.Organic Traffic
The first bucket for traffic is called Organic. This basically means all the ways you drive traffic to your website that do not cost money. 
When I say it doesn't cost money, that doesn't mean it doesn't cost time and effort. And, actually, content marketing which is a big part of organic traffic costs money.
Organic comes from the terms that Google Analytics has used for years that refer to incoming traffic that wasn't paid for (paid ads, more on that in a bit).
As I said, it doesn't mean you won't ever spend money. For example, you might pay for a writer (what I do) to write articles or run organic social media campaigns.
If you don't pay for someone to execute these tasks, then you are doing them yourself. That takes time.
In fact, a recent article came out from Orbit Media that tells a snippet of the time (and other guideposts) it takes to write good blog posts.
It takes 4-6 hours minimum to write a really good blog post (article).
Organic traffic is a result of some good work and link building.
Ahrefs explains the importance of link building:
Good link building is the result of a good organic traffic strategy. 
Here are various ways to take advantage of organic traffic:
Search engines – search results 
Referrals – link referrals from other websites – link building
Social Media (non paid) – non paid efforts
PR Outreach – Taking advantage of public relations 
Feature Article – An article featuring your business or you
Guest Articles – An article you write on another website
Guest on podcast – Being a guest on a podcast.
The key to these is to have a link to your website or a page from your website.
2. Paid Traffic
Paid refers to paying for the traffic. In this case, you have paid to get the traffic in one of many different ways. 
Again, this is not the same as paying for the execution of a content strategy but rather the distribution of the strategy.
So, you write an article, and it answers a pressing question for your audience.
Then, you post it on Facebook, maybe Twitter, or Instagram. This is organic because you didn't pay either to boost the post.
Now, you decide to put some money behind it.
Next, you pay Facebook to boost a post or Twitter, etc. You might even pay for a Google Ad for a target keyword. 
You might pay to have your banner on a high-traffic website for a product or service. 
Almost every social media platform has paid ads to get traffic. Many businesses don't send that traffic to their website, but that's a mistake.
When you run an ad on Facebook or others, you need a dedicated landing page on YOUR WEBSITE to send that traffic.
Another option is paying to be in an email newsletter. For example, for a fee, you can be featured in our local Chamber's email.
These are all paid options.
You are paying to have an ad or post displayed to more people on social media, on other websites, and in email newsletters.
This is called Search Engine Marketing (SEM) or Social Media Marketing (SMM).
If you use this tactic, always send traffic back to YOUR WEBSITE because it is your hub for online business.
Paid Options:
Paid SEM 
Paid Online Ads
Paid Social Ads
Paid Newsletters
3. Email traffic
Your email list
Your Email Newsletter
Email Outreach
You can absolutely get traffic to your website from your email list. Actually, you can get it from a number of emails. 
There are at least three ways to get traffic from emails: 1) Your own email list; 2) Your email newsletter; 3) Email Outreach.
Your email list
I separated your email list from your email newsletter because you may use your list in different ways.
Some people tag their audience and send automation emails (or autoresponders) to that segment. It isn't literally an email newsletter, but it can function like one.
You create a series of emails and you create an automation that sends those out over a period of time to that segment of your list.
They can contain links to your website and/or various landing pages.
Email Newsletter
An email newsletter is a regular newsletter you send to your list or a segment of your list.
Those newsletters are executed at regular intervals. You send them at the same time every week or month or day, etc.
They usually contain content your users find useful, a similar format each time, or a broadcast of what's going on with your company.
Both types of emails, the newsletter, and the automation, can be effective tactics for sending traffic to your website.
Email Outreach
Email Outreach is a bit different. These types of emails go to prospects you have identified and you are reaching out to create a relationship.
In doing so, you will likely share various resources on your website. The ultimate goal is to create a relationship but you can certainly use it to help drive traffic to your website.